DaVinci's Gold Casino
DaVinci's Gold Casino is in a class by itself as evidenced by the unique design of their website. With famous paintings such as the Mona Lisa to the DVG logo, to the Cryptex seen in "The DaVinci Code!" Their mission statement is true to the high standards they have set for players. They proudly assert: "Our goal is to make your experience at DaVinci's Gold as exciting and memorable as possible. So with this in mind, we have created a gaming atmosphere that is simply second to none."
Software and Graphics
DaVinci's Gold Casino utilized Rival software and is designed to enhance your gaming experience. The I-Slot games truly stand out. They use a combination of multi-line video slots play with movie-style game episodes that are highly entertaining. Their bonuses offer a unique experience to gamers. Moreover, they add new episodes to their movie-themed games frequently to add to the excitement of the game.
DaVinci's Gold Casino Promotions
DaVinci's Gold offers a variety of promotions on a monthly basis. For starters, their sign up bonus gives you up to $2000 on slots. They also have a 50% bonus on table games; $22 no deposit bonus; and comp points!
USA Players Accepted
Players from various countries such as the United States are accepted to play at Da Vinci's Gold Casino. People from all over the world are able to sit back and play these online casino games, and you will find that USA, UK, and Australian players are welcomed to play. Other countries are able to contact the help and customer support to determine if they are able to sign up.
Enjoy New Rival Slots Here
The online casino provides you with a chance to enjoy Rival slots here. These are the latest games from the online casino software provider known as Rival Gaming. Rival is well-known and players will discover that new slots are always popular. The casino also offers what is known as Rival i-Slots. Keep in mind that now you will not have to jump into your car to find the nearest casino. For some people, the nearest casino is only available by airplane ride. You will now only be required to log into your Da Vinci's Gold account and you may see the various slots accessible to you. Right at your fingertips is not just new slots by Rival, but also classic slots, featured games, scratch cards, Blackjack, video poker, Roulette, Baccarat, and specialty games such as Keno. Here are some examples of the slot games to be found by Rival: As The Reels Turn, Spy Game, Dollars To Donuts, Pistols and Roses, Summer Ease and Five Times Wins slots games.
Special Tournaments Available
Players may not realize what a good thing it is to have access to special tournaments to play inside this online casino. There are lots available and it is easy to take for granted that these tournaments will always be there. However, if given the chance to play you can see how it might be possible to not just enjoy gameplay, but also enjoy the excitement of rising up the leaderboard for the tournament. You are able to see your standing in relation to other tournament members and can develop a strategy to bring you closer to winning. If you do win one of these tournaments, you will not only receive the tournament prize but also the bragging rights that go along with winning. These online casinos now have tournaments available to play for each day of the week. You can sign up to enter the tournament. Some of the bigger tournaments will require an entry or buy-in fee. Afterwards, it is just a matter of actively taking part in the game featured in these online tournaments.
Casino Rewards
This is an online casino which knows the value of giving casino player benefits and rewards. One of the casino rewards is comp points. Players may receive comp points each and every time they place a wager. Each game will have a certain number of reward points for placing money to play it. The number of rewards for each player will depend on the Rewards Level. There are three reward levels - Gold Rewards, Platinum Rewards, and Elite Rewards. Those at the Elite Rewards level will receive comp points at 5 to 1. Your rewards level will only determine your the percentage of your match deposit bonus, amount of free cash, and how much cashback you will receive.
No Download Instant Play
One of the benefits of playing inside this online casino is the opportunity to use the instant play version of the casino. This is also known as no download instant play, and as the name suggests, this type of gameplay does not require you to download anything. After signing up and having your online account verified, you will be able to get started. Keep in mind that a deposit is required if you want to win and place real money wagers.
Top Mobile Casino Games
The Da Vinci's Gold Mobile Casino is not to be ignored. This is where you will find the latest mobile games. The use of a smartphone or tablet has made it even more special to enjoy online casinos because you may play these games anywhere. Just imagine being able to play while waiting at the doctor's office or while on the train for your commute to work. There are also lots of games to select from for mobile device users. Other than your mobile device, you are required to have a form of Internet connection such as mobile data or Wifi to play mobile casino games.
Slot Play
DaVinci's Gold has 10 standard slot games; three progressive slots; 35 multi-line slots; 34 slot games with bonus features; and 34 slot games with 5 reels. The I-Slot games offered are interactive, multi-reel, multi-line slots. These include: Baby Boomers - Cash Cruise, Cosmic Quest, Hole in One, As the Reels Turn (Parts 1, 2, and 3), Reel Crime 1: Bank Heist, and Reel Crime 2: Art Heist.
Slot machine highlights include:
As the Reels Turn Slots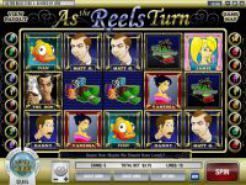 As the Reels Turn is a video I-slot with 5 reels and 15 pay lines. This movie-themed slot has symbols include: Tommy Wong, Bonus Chip, Ivan the Fish, El Paradiso, Casino Chips, The Don, Matt G, Chrissy, Letter, Wine, and Lobster. The first jackpot is 1,000 coins and the second is 300 coins. The maximum bet is $75. All As the Reels Turn slots offer bonus features galore!
Baby Boomers Cash Cruise Slots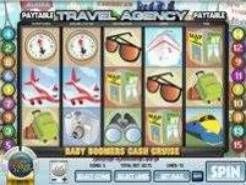 Baby Boomers Cash Cruise is an I-Slots video game with 5 reels and 15 pay lines. This travel the world themed slot game features such symbols as: Trains, Cruise Ships, Buses, Suitcases, Cameras, Passports, Airplanes, Sunglasses, Compasses, Globes, Maps, and Binoculars. The first jackpot is 5000 coins and the second is 3000 coins. The maximum bet is $37.50, and offers a great bonus feature as well.
Reel Crime Slots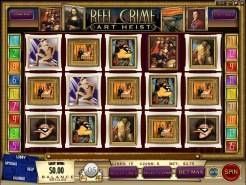 Reel Crime 1 & 2 are both an I-Slots video game with bonus features. Each has 5 reels with 15 pay lines. The Art Heist is an exciting slot game that features symbols including: The Forger, Remy Thinker, Raoul Thinker, Remy Bandit, Raoul Bandit, The Nudes, The Diner, and the Masterpiece.
Now Use Bitcoin Payments
Bitcoins and the online casino industry go together like peanut butter and jelly. It is hard to find an online casino which is not offering Bitcoin as a payment method. You will be able to use Bitcoin cryptocurrency to make payments. This includes placing a deposit to play games. After you win, you are then able to request a withdrawal using Bitcoins. It is just a matter of having Bitcoin or BTC in your personal Bitcoin wallet to send to your online casino account. Players will need to know the casino's bitcoin address to deposit to. When requesting a withdrawal, they will use their own personal Bitcoin wallet address to receive these digital coins.
Banking and the Cashier
The Banking area will show the Cashier. This is where you will go to make deposits and requests any withdrawals. The Cashier will not only accept Bitcoin (BTC) but you may also use other payment methods such as MasterCard, Visa, Neteller, EcoPayz, Skrill, Ukash, and UseMyBank. Players will be able to send bank wire transfers and request a check. The other currencies include the United States Dollar, Euros, Pound Sterling, Rupee, and Ruble.
24/7 Customer Support
Da Vinci's Gold Casino provides numerous ways for online casino members to contact someone for help. Customer Support is for those times when you have a question or when you encounter an issue within your online casino account or while playing a game. You will be able to use live chat, email or a phone call to get the help you need. Keep in mind that support is available 24/7.
For more information on the Best Rival Casino Slot Games and Online Casinos for USA Players, head on over to DaVinci's Gold Casino and check out their newest casino games . They are quite impressive!