Cocoa Casino
Cocoa Casino has their mission statement on the front page of their website that reads: "At Cocoa Casino we promise to keep the needs of the players our first priority and to always conduct business with honesty and integrity." They certainly live up to this high standard.
Software and Graphics
Cocoa Casino utilizes Rival software technology, which means the jewel in the crown is the I-Slot games. The ever popular I-Slots are multi-reel, multi-line slots that feature extras such as animated video clips, bonus rounds, and story lines - all of which are interactive. Cocoa Casino over 70 casino slot games includes: I-Slots, 3-reel, 5-reel, and progressive slots.
Slot machine highlights include:
Cosmic Quest Episodes Slots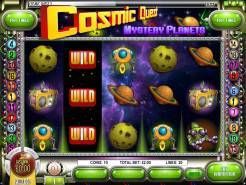 Cosmic Quest Episodes 1 & 2 are both I-slots video games featuring a Space Adventure theme. Each has 5 reels and 20 pay lines. Symbols on Episode 1 are: Spaceship, Laser Gun, Astronaut, Radio Antenna, Space Monkey, Satellite, Space Station, Space Dog, Space Probe, Space Food, and Space Helmet. Symbols on Episode 2 are: Rocket Ride, Jetpack, Astronaut, Radio Antenna, Satellite, Mystery Planets, and Asteroid. Each has a jackpot of 5000 coins. The maximum bet for Episode 1 is $50; while the maximum bet for Episode 2 is $20. Both have bonus features.
One Million Reels BC Slots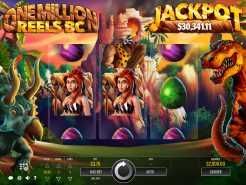 One Million Reels BC is a progressive slot game with a Prehistoric theme. It has 3 reels and 5 pay lines. Its symbols include: T-Rex, Cave Girl, Cave Man, White Egg, Yellow Egg, and Green Egg. The maximum bet is $3.75. It has a wild multiplier as a bonus feature. If you get the T-Rex symbol, you can win up to four times your original bet.
Reel of Fortune Slots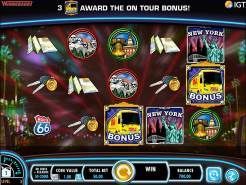 Reel of Fortune is a video slot design as a Retro Home Appliance theme. It has 5 reels and 20 pay lines. The symbols include: TV, Washer, Boat, Mixer, Car, Refrigerator, RV Motor Home, Golf Clubs, Blender, Bar BQ Grill, and Motorcycle. The jackpot is 1500 coins with a secondary jackpot of 1000 coin. The maximum bet is $50. This slot game has a bonus feature as well.
Lots of Promotions
Some very sweet promotions are to be found at Cocoa Casino. This online casino is ideal for those who have a sweet tooth when it comes to bonuses and promotions. No Deposit Bonus: The casino offers a special no deposit bonus. If you are not familiar with what this is, a no deposit bonus is basically free money. Online casinos will give players a specific amount of money to register and try out the casino games. There are other types of deposits known as deposit bonuses which do require you to place something in your online casino account. However, in the case of Cocoa Casino, the current free no deposit bonus is $25 and you will see this money instantly credited to your online account once you have signed up to play inside.
Match Deposit Bonus: There is also a special Deposit Match Bonus which does require you to use your money inside the casino. When you make a deposit, the money is matched 100% and this will give you a chance to double the amount of money you have to play with.
VIP Bonus: One of the other bonuses to try for is the VIP Bonuses. When you become a VIP, you will have a new world of special bonuses opened to you. This would not only include daily bonuses, but also special match bonuses, and bonuses for new casino games. Players who become VIPs will have a chance to enjoy a cash back bonus each week. All of these may be found in the Cocoa Casino Promotions area.
Many Countries Accepted
Players will be happy to know that many countries are accepted to play in this online casino. This includes players from top casino such as the USA, UK, and Australia players are welcomed. The casino does offer English as the main language. You will be able to check with support if your country is able to play or is restricted.
Experience New Rival Slots
The casino software provider Rival Gaming has more than 150 casino games available with many of them as slots games. You will see that these games are available at Cocoa Casino. Rival is not a new name in the online casino industry and it has been around from since the early 2000s. Other than slots, it has video poker, table games, and specialty games. This online casino also provides access to new Rival slots. These games are usually the featured games or part of a bonus promotion. The most popular slots are the Rival i-Slots which are interactive progressive games. They allow players to pick up from last gameplay. Some examples of Rival slots are:
Fun Online Tournaments
Members would find it beneficial to know that they may take part in Cocoa Casino tournaments. These tournaments can be found when you login and you will be able to see which ones are available to you. The tournaments are not only fun, but also entertaining. They are based on featured games and there is a chance to win a prize or the pot. There are also freeroll tournaments to enjoy. You could be the one to get to the top of the leaderboard and when the highest tournament prize.
Collect Rewards and Points
You will discover that there is a loyalty program and it gives players the chance to collect points and special rewards. The rewards program offers multiple prestige levels such as Bronze, Silver, and Gold which is the top level. At Gold VIP Club level, casino members can look forward to a 100% Unlimited Bonus. They are able to receive a $100 New Game Bonus and a $100 Free Fridays Bonus. The Daily Bonus is matched 100% and the Weekly Cashback is 50%. It is also possible to receive 5 to 1 comp points just for participating.
Instant Play
Some casinos offer an instant play version and this Cocoa is not an exception. This instant play casino will not require a player to download anything. They can just sign up and begin without having to wait for a download and installation. You will also be able to play on another computer without having to wait until you arrive home to play.
Access the Mobile Casino
The Mobile Casino can now be accessed by online members that have a mobile device such as a phone or tablet. These players will need to have mobile data or Wifi to be able to log into their mobile casino account. More casinos are offering mobile games as players are not just sitting at home. They want to be out and still be able to enjoy these games. Keep in mind that mobile gameplay has grown considerably and players will only need to log in. There are even special bonuses for mobile casino users.
Pay With Bitcoins
It may be hard to imagine now, but at one time Bitcoins was not always well-known. Now, this has changed as you will hear everyone talking about the digital currency system known as Bitcoin. The use of bitcoin payments has grown in the online casino industry, and it is no surprise that it is offered by this casino. Bitcoin or BTC is the original cryptocurrency and it involves purchasing this digital coin from a currency exchange. The coins need to be placed in a Bitcoin wallet, and the digital wallet address of the online casino is needed to send coins to be deposited. Using Bitcoin is a good way to avoid using your credit card or bank account to send money directly to a casino.
Banking
The Banking area shows which method are available to make deposits and receive withdrawals. The casino offers instant banking with the payment methods that support it. You are able to use Bitcoin, Skrill, Paysafecard, Visa, MasterCard, Neteller, Cashlib, and EcoPayz. There is a minimum deposit of $25 and the maximum deposit is up to $2,500 or no maximum in the case of Bitcoin deposits. Currencies accepted include United States Dollars, Euros, BTC, South African Rand, Australian Dollars, and British Pound Sterling.
Contact Help and Customer Support
Cocoa Casino does allow people various methods to ask for help and to contact customer support. Anyone with a question or an issue will be able to seek help through Live Chat, by telephone or email. The most popular is Live Chat. There is also an area of FAQ in online casinos in which the answer to your general question may be found.
If you have never been introduced to Rival Casinos, we recommend you check out Cocoa Casino as it is one of the top Rival Casinos on the internet today.