Food Slots
There's no denying that people enjoy their food. Whether it be at a ball game, a family meal, or simply a quick dinner on the sofa in front of the TV, people need their nourishment. Well slots players are apparently no different, as food-related slot machines have been among the most popular of any slots games online for years. Casino software brands such as Microgaming, Real Time Gaming, and others have capitalized on the popularity of food-related slot machines by offering up some of the most exciting slots delicacies on the internet. If you're hungry, you'll want to take a bite out of the food-related slots listed below.
Food Fight Slots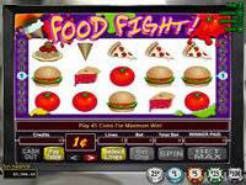 Food Fight is a 5-reel, 9-payline video slot game from Real Time Gaming Casino Software. If you don't sit down at your computer on a full stomach, your mouth will soon be watering at the sight of this game's symbols. Spin the reels enough times and you'll be lucky enough to see symbols such as burgers, ice cream, pizza, spaghetti and meatballs, and more. You can play Food Fight Slots at casinos such as Silver Oak Casino and Bovada Casino for as little as one cent per spin, or as much as five dollars spin. With a 45-coin maximum bet, players can strike the jackpot for as little as 45 cents. Food Fight will pay out its top jackpot of 6,250 coins to a player who can successfully line up five ice cream bowls. The game also offers nice secondary payouts, including a 3,500-coin prize for lining up five spaghetti and meatballs symbols. To play Food Fight Slots, download Silver Oak Casino right now !
Flo's Diner Slots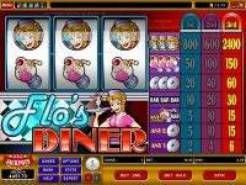 Flo's Diner is a 3-reel, single-payline slot machine found at Microgaming casinos. This classic single-line game has a greasy-spoon diner theme, complete with scrumptious food symbols such as donuts and ice cream. If you've been playing slots games online for some time now, you'll identify Flo's Diner as an older-style slot machine, as it offers no wild or scatter symbols, and it does not feature a bonus game. In spite of these limitations, Flo's Diner offers tons of fun, as well as a 2,400-coin top jackpot that will pay out up to $12,000 on a single spin. For some simple, old-school fun at Flo's Diner, download and play at Betway Casino today !
Fruit Slots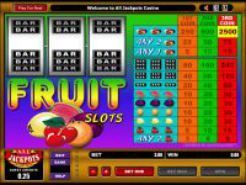 In terms of simplicity, Fruit Slots certainly take the (fruit) cake! This standard three-reel, single-payline slot machine from Microgaming Casino Software features coin sizes ranging from one dollar to five dollars, and a maximum bet of three coins. Fruit Slots are more interesting than most classic slots games however, as they really reward players for playing the maximum coins; players who bet one coin will earn a 500 coin jackpot; players who bet two coins will earn a 1,000 coin jackpot; players who bet three coins however, will earn the game's top jackpot of 2,500 coins. In order to win Fruit Slots' top jackpot, you'll need to line up three of the mixed fruit symbols. The game's additional symbols include: Cherries, Watermelons, oranges, lemons and more. Download and play at Betway Casino now to try your luck at Fruit Slots.