Special Halloween Slots & Bonuses
The Best Halloween Slots
Trick or Treat Slots
Available at Liberty Slots Casino , Trick or Treat Slots is a classic slot game with 3 reels and 1 pay line. True to its name, the symbols include: witches, cats, pumpkins, candy, and bars. The coin size ranges from ten cents to ten dollars, and the maximum bet is 3 coins or $3. Bonus Features: The Witch is the wild symbol, and acts as a 2x - 4x multiplier as well
Monster Money Slots
As one of the newer Halloween-themed games, Monster Money Slots is a 5-reel, 25-payline bonus video slot game. With a Frankenstein theme, the symbols include: the professor, monsters, electrical rods, labs, brains, potions, hands and feet. The coin size ranges from one cent to $10, and the maximum bet is 25 coins or $250. Bonus Features: The Professor is the wild symbol, and the Electrical Rod is the scatter symbol. To activate the bonus round, get 3 or more electrical rods. The bonus round consists of a pick a box game. Naughty$66,666 Guaranteed Halloween Weekend! Starting October 30th at 8PM (ET), get ready for the Halloween Weekend Madness $66,666 Guaranteed Slot Tournament. Entry fee is a macabre $13.13, with a chance to take home a spooky $16,666 1st Place prize. There are prizes all the way to 500th Place. Other Details: Entry fee: $13.13 Re-Buy: $13.13
Naughty Ninjas Slots
The last in our series of Halloween-themed slots is Naughty Ninjas Slots. This is a 5-reel, 25 pay line bonus video game -with a twist. Ninjas and monsters have been selected to go "bump in the night" trick or treating! The coin size ranges from one cent to ten dollars, and the maximum bet is 25 coins or $250. Bonus Features: The wild symbol is Bubbles, and the scatter symbol is Ninja Star. Get 3 Ninja Stars and activate the re-spin bonus round. This is a cool feature! When you get any one of the selected symbols, these reels will remain as the rest spin until you receive the best payouts! Although black clothing is not required to play this game, be sure to go to LibertySlots Casino and enjoy this exciting game!
Scary Rich 2 Slots
If you don't mind becoming scared and rich at the same time, Scary Rich 2 Slots is a 5 reel, 20 pay line bonus video slot game. With its monster theme, you will find such symbols as: werewolves, rats, coffins, mad clowns, black cats, mad dolls, knives, witches, vampires, walking dead, and zombies. This is a classic Halloween slot game! The coin size ranges from ten cents to ten dollars, and the maximum bet is 3 coins or $50. Bonus Features: The Coffin is the wild symbol, and also a 6x – 13x multiplier. The Werewolf is the scatter symbol. In order to activate the free spins bonus feature, you need to get 3 or more werewolves to win 13 free spins. All winnings are triples, and there is a retrigger feature to obtain additional spins during this round. You can play Scary Rich 2 Slots at Superior Casino .
Haunted Reels Slots
Speaking of haunting, this slot game is perfect for Halloween! This is a classic bonus slot game with 3 reels and 1 pay line. But don't let that stop you! The symbols on Haunting Reels Slots include: witches, pumpkins, Jack-O-Lanterns, trick or treat, candy, and bars. The coin size ranges from 10 cents to 10 dollars, and the maximum bet is 3 coins or $30. Bonus Features: The Witch is the wild symbol and when she appears, then the bonus round is activated. The bonus round consists of a pick a box game. You can find the witch and play Haunted Reels Slots now !
Freeroll so Scary it's Fun!
On the day before Halloween, October 30th at 10AM (ET), wipe off the cobwebs and play the Fearfully Fun Fright Night Freeroll $2,666 Guaranteed Slot Tournament. This 1-Day Tournament finishes at 11:59PM and features the game Black Magic Slots . 1st Place prize is a Frightfully Fantastic $666 with prizes paid out to 200th Place.
What to Do on Halloween? Try Halloween Slots Bonuses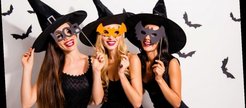 No one has to remember the history of Halloween to understand that the spirit of Halloween is alive, but finding something to do on this day might be harder. Since Halloween is the same date every year no one has to ask, "What day is Halloween?" However, people will frequently wonder how to have a good time on this day. Those with any young people can take them for a trick or treat while they watch the bed sheet covered spirits walk through the neighborhood with containers of candy. There are many things to do on Halloween such as try out Halloween recipes or Halloween food ideas, or visit a Halloween store near me. However, even though these activities might be entertaining, nothing will compare to redeeming Halloween bonuses and playing Halloween slots games. What other activity will give you the chance to scare yourself and win cash both at the same time? Try some of the Halloween online slots and bonuses below.

Play at

Casino Max, Cherry Jackpot Casino, Roaring21 Casino, Spinfinity Casino

Play at

Casino Max, Cherry Jackpot Casino, Roaring21 Casino, Spinfinity Casino
With Halloween around the cornery, it seems fitting that we highlight some of the scariest slot games that are not only fun to play, but graphically appropriate to the theme. All slot casino games are real Halloween fun!