Slots With Best Bonus Games
Anyone searching for some of the best slots bonus game may be feeling a little daunted. This is because there are over 160,000 slot machines to be found in Las Vegas, Nevada, and even more online. These bonus games will vary in theme and gameplay and winning them will instant prizes, multipliers and free spins. Here are 10 of the slots with the best bonus games to try.
Good Girl Bad Girl Slots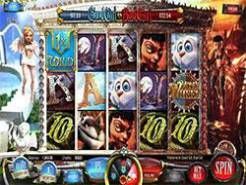 Good Girl Bad Girl Slots is a popular game with bonus features. It was created by Betsoft Gaming and features two kinds of gameplay which leads to two kinds of bonus features. Players will see there is an angel and a devil - a good girl and a bad girl. The game is split into two ways. There are five reels and 15 paylines to watch. However, because there is both good and bad girls, there are 30 paylines in total. The symbols on the reels include the Good Girl, Bad Girl, Moon, pitchfork, 2X Wild, 4X Wild, money wheel, halo, good cat, bad cat, and more. The Money Wheel symbol will start one of the bonus games. You will have a spin on the wheel with three scatters to win an instant prize. There is also the Click Me Bonus Feature. Players will see an angel halo next to the devil pitchfork, can cause gift box bonus and can choose four of these to receive more instant prizes. The bonus game will add multipliers of 2x and 4x as wilds when you try Good Girl, Bad Girl Slots.
Hairway To Heaven Slots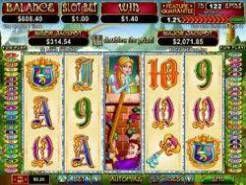 Hairway To Heaven Slots is a slots from Realtime Gaming which offers various bonus features to select from. This is about the fairytale story "Rapunzel." Players will see that the story has been combined with slots to create Hairway to Heaven. There are 25 lines and five reels to watch in this game. It accepts wagers from $0.01 to $5. The symbols to be found are the tower, key, mirror, playing cards from Ace to 9, a royal crest, guard, the Prince, Princess, and more. The Prince is the scatter symbol and the Princess is the wild. You will see the Prince can trigger the Damsel in Distress Feature. During this bonus game, eight free spins are rewarded. There is the Princess Pays feature which gives free spins and a multiplier of 3x. The main bonus feature is the Hairway to Heaven Feature. You will receive to 20 free spins, and multipliers increase with each spin in Hairway to Heaven.
Mega Moolah Slots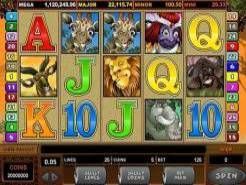 It not possible to talk about slots bonus games without discussing Mega Moolah. This is a popular online slot from Microgaming which is well-known because of the high jackpots won from this progressive slot. Players can see a free spins jackpot of more than 225,000 coins. The base game has a 75,000 coin jackpot. The wagers begin at 0.01 and 0.05 pence. Gameplay is in Pounds Sterling. Mega Moolah Slots has an animal theme with an elephant, zebra, monkey, giraffe, buffalo, lion, monkey, and more. Players will feel as if they are on safari. There is also a Mega Moolah Jackpot Wheel symbol which offers a Mini, Minor, and Mega Jackpots. The bonus game is worth playing as it involves a large Bonus game. Players will see that the bonus feature is random and allows players to spin the jackpot wheel for a chance to win. There are five reels and 25 paylines to be found, and this game is accessible by the mobile casino.
Mister Money Slots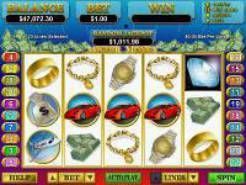 Mister Money Slots is all about the money. In the case of this game, it is about the bonus games and features which can help increase the amount of money won. There are 5 reels in this video slot with 20 paylines. The game allows coin wagers from 0.01 and up to 5 with a max wager of $100. The symbols in the game are wealth and fortune related with a white diamond, red diamond, piles of money, a sports car, a mansion, Mr. Money, women, an airplane, gold ring, gold watch, bracelet, etc. It starts off with a reward with five free games. The bonus game shows bags of money and you can spend time clicking the bags to reveal instant cash, multipliers, and more free spin games. The bonus game is triggered by the scatters and the numbers of scatters determine how many bags of money you may click. The bonus feature can give up to 25 free spins in Mister Money.
Mr. Vegas Slots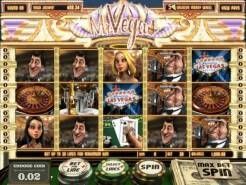 Mr. Vegas Slots was released by Betsoft Gaming and it shows the fun of Las Vegas with all of the bonus game features. This is a 3D slots which follows the life of a Vegas casino player. He is indeed a high roller or VIP. The game was created with five reels and 30 lines to wager. You can place a wager from 0.02 to $1 per payline, and five coins are accepted per line. The symbols are all about the games to be found which include dice, a slots machine, Money Wheel, Blackjack cards, a Roulette wheel, casino chips, and a Vegas casino dealer. Other symbols are the champagne, blonde, Mr. Vegas, a brunette woman, the Vegas showgirl, and the Welcome to Fabulous Las Vegas sign. There are four special bonus games. The slot machine symbol will activate a mini slots game inside of this actual slot game. You will see the mini reels spin. There is also a Money Wheel Bonus game. The money wheel will spin as slot players are able to collect prizes such as free spins, extra money or the progressive jackpot. The Dice symbol will start a free spins feature. You will see the bonus game with a roll of the dice to determine how many free spins and the multiplier. There is also a Roulette bonus game in Mr. Vegas with a mini Roulette wheel appearing. You will be able to select from five numbers and if you guess correctly, a prize is given in the Roulette bonus game.
4th and Goal Slots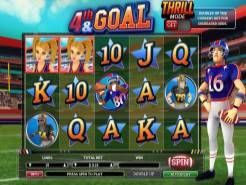 One of the sports theme slots with a fun bonus game worth taking a look is 4th and Goal Slots . This is an online slots which features 15 paylines and it is arranged in five reels in this soccer theme slots game. It is all about European football. The game offers minimum coin wagers from $0.02 to maximum wagers of $135. Some of the symbols include a Coach Walsh, cheerleader, soccer ball, Terminator, Jerome, Sticky, Colt, Willie, Ace, King, Queen, Jack, and 10. The bonus game is quite detailed and you will catch a glimpse of some of the strategies coaches and players use to win the game. Slot players are given the chance during the bonus game to make a Pass or Run the play. There are two levels to this game and even a chance to kick the ball to win a prize in 4th and Goal Slots.
World Leaders Slots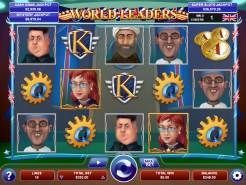 With so much of what is going on it is no surprise that World Leaders by Arrow's Edge is a popular online slot. It is available by desktop and mobile, and contains the most well-known past and current Heads of State. This Arrow's Edge slot provides gameplay on 18 paylines and five rees. The wagers start at $0.02 and rise to $8 with a max of $252. You will see Ayatollah Ruhollah Khomeini, Queen Elizabeth II, Vladimir Putin, and Kim Jong Un. Other symbols include a golden eagle, newspaper, cogwheel, bear, crown, red phone, A, K, Q, and J symbols. The bonus game features a spinning Globe which will give free spins and prizes depending on where the Globe lands. There are free spins, jumping reels, multipliers, and expanding wilds. One of the bonus games allows you to call these World Leaders and you are rewarded with a prize when they answer.
Reign of Gnomes Slots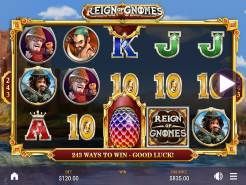 Reign of Gnomes Slots was released by Revolver Gaming and it is an entertaining slots game with various bonus game features. This slot game is about the land of the gnomes and you will be transported there. Players will see thee are 243 ways to win in this game with symbols such as King and Queen Gnome, Princess, diamonds, male gnomes, the Reign of Gnome game logo, playing cards and a dragon's egg. The notable bonus game is the Golden Wheel Bonus. It rewards players with more diamonds and lots of multipliers. Players can see the diamonds will also appear on the screen during a pick 'em type bonus game with up to 8 choices to be made.
Mine All Mine Slots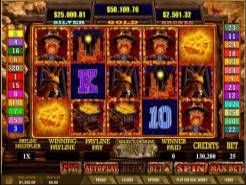 Another bonus slot is Mine All Mine Slots from WGS. This 25 payline game offers 5 reels of gameplay. The game is all about mining and searching for a fortune. Slot players are able to play up to $625 on the reels. They will also have access to Bet Multipliers of up to 5x. Mine All Mine Slots is unique because it offers a progressive bonus game. The screen changes to show a room inside the Mine, and players will direct the miner which way to go and they can receive either an instant prize or a jackpot prize depending on which path is chosen. This bonus game may be activated three times.
Sugar Pop Slots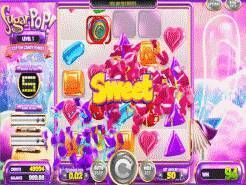 Sugar Pop Slots is a sweet game, literally. The theme and bonus games are well-known. This is a 50 payline game with wagers up to $1 per line. It is a 3D game with chocolates, cotton candy, candy canes, lollipops, jelly beans, and more. The bonus features include the Super Color Feature, The Super Candy, Color Bombs, and unlocking symbols. Players will see extra candies added to the reels. There is a sequel to Sugar Pop 2 Double Dipped with more bonus features. Keep in mind these are just some of the slot games with bonus features accessible to you.