Microgaming Slots
The technology utilized in designing and creating some of the best online casinos with over 300 games in its portfolio has been made Microgaming Slots a leader in the online casino industry.
Moreover, the bonuses and promotions offered at Microgaming Casinos are among the best in the world. Moreover, their payouts are huge and they consistently have exceeded slot players' expectations.
One of the casinos that we feel is one of the best of the Microgaming Casinos is All Slots Casino. When you consider that the size of the portfolio consists of 3 reel slots, progressive slots, multi-line slots, bonus feature slots, and 5-reel slots, it is no coincidence that we choose All Slots Casino. Slot enthusiasts can sign up with All Slots Casino and play endless hours of their favorite slot games.
All Microgaming Slot Games
3 Reel Slots
We have chosen to highlight three of the most popular Microgaming slot games: Tomb Raider, 5 Reel Drive, and the new Wheel of Wealth Multi-Player Slots.
Tomb Raider Slots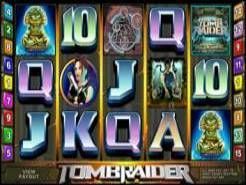 Tomb Raider Slots is a 5-reel, 15 payline slot game with 35 winning combinations. It has a jackpot of 7500 coins, and the coin size ranges from five cents to $1.00, with a maximum bet of $75. This Lara Croft themed slot game has wilds, scatters, and two bonus games. Its symbols reflect the popular movie of the same name, and it a hit among slot players abroad.
5 Reel Drive Slots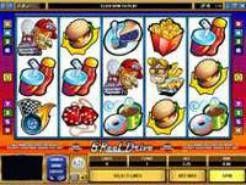 5 Reel Drive Slots is a 5-reel, 9 payline video slot game with a jackpot of 10,000 coins. It has a coin size ranging from 25 cents to $2.00, with a maximum bet of $18. Its Road Trip themed symbols are beautifully rendered, and the game consists of a wild and scatter symbol. For slot players who do not wish gamble too much on slots, this is the perfect game to play.
Wheel of Wealth Multi-Player Slots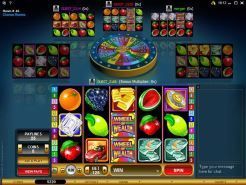 The exciting new multiplayer slot game just arrived at All Slots Casino - Wheel of Wealth Slots. This slot game is so unique that it will undoubtedly become a big hit among slot players! Wheel of Wealth allows five players to play at the same time, and get to know each other via the chat feature. All players share the bonus round, and it is quite a doozy!
Here is one feature we would like to share with you. If you get 2, 3, 4, or 5 scatter symbols, bonus multipliers are awarded. When you reach the bonus round, whatever multipliers you accumulated during regular play will yield high payouts. Moreover, you also will have a chance to play the Wheel of Wealth game in which you choose which payout spot on the wheel you are vying for. When the wheel stops, all players win!
Microgaming Slots Tournaments
The best Microgaming casinos provide so much great entertainment and on top of the brilliant slots and games you'll also see that many of them provide you with the chance to enjoy superb Microgaming slots tournaments, and this is a casino feature that many players really do enjoy. With stunning prize pools and each tournament being played on such cool Microgaming slots, the tournament section in each casino are busy places and you'll see many tourney options available with huge month long tournaments that provide superb prize pools, daily and special slots freerolls, weekly events and much more and at special times of the year you'll see that very special tournaments are ready to roll. Easy to enter and providing so much fun, Microgaming slots tournaments are a blast and provide a cool alternative to simply spinning the reels, and taking your seat is all so simple.