Experience The Finest 3D Gambling Adventures With These Top 7 Betsoft Slots
There is a good reason why the slot software producer Betsoft Gaming is widely considered as one of the leading game developers in the online gambling market. The software company earns this position due to its focus on the creation of high standard 3D slots . These slots all feature outstanding animations, clear sounds and beautiful graphics. The players from this game developer are definitely spoiled, because they have access to an abundant collection of amazing 3D slot titles. The scale of this 3D slot collection, is not matched by any other online slot game producer. Speed and convenience are also two reasons why players flock to Betsoft games. These games do not require any software downloads, before gamblers are able to play them. They are all accessible via the instant play service and they are played in the gambler's webbrowser. Slot enthusiasts have a choice to play the games in fun mode for free, or they use the real money mode to earn some real cash. Because of the large collection of excellent games, it is certainly challenging to pick the best ones from the pile. However, here is a top 7 list of slot games that deserve some extra praises for their high entertainment value, lucrative jackpots, fruitful payouts, fun themes and alluring bonuses.
7. Pharaoh King Slot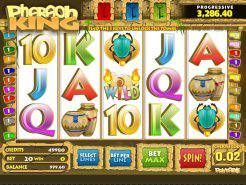 Pharaoh King is a very suitable video slot game for players who are strongly intrigued by the ancient Egyptian civilization. Scatter pyramids, bankroll increasing clay jars, jackpot launching scarabs, bonus triggering keys and especially the tomb of the Pharaoh King, play an important roll in this game. What treasures lie hidden in his pyramid. It is up to players to find out in this adventurous 5 reels slot with 20 paylines. And they can leave it to Betsoft to keep them entertained during their profitable gambling quest. The game features colorful graphics and a lucrative progressive jackpot. It also has a sweet bonus feature, where players have the profitable opportunity to open up the ancient tomb of the Pharaoh King.
6. The Greedy Goblins Slot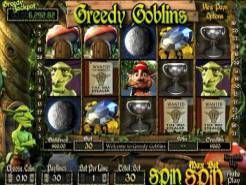 Players should not avoid this game because of the notoriously selfish and deceiving nature of the small and green little creatures that form the theme of this enjoyable video slot. The Greedy Goblins is actually a straightforward game that easily leads players to their very own pot of gold, especially when they hit the jackpot. However, they do need to be brave and adventurous enough to venture into the mysterious forest and spin the treasures away from the annoying goblins. The plan of action is to spin the 5 reels and collect the treasures with the help of 30 paylines, free spins, sticky wilds, a progressive jackpot and a lot of bonus features.
5. At The Copa Slot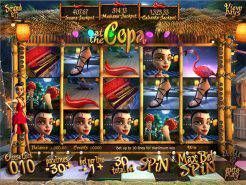 At The Copa Slots offers a 3D spinning experience, numerous payout opportunities and a broad variety of payout triggering symbols. But those are not the only reasons why this latin and Copacabana themed game is so popular. It also earns a place on many favorites lists because of the free spins, 30 paylines, stacked wilds, progressive jackpots and the dancing themed bonus game. Players experience all the warm and generous latin showbizz glamour by spinning the five reels from this slot machine. And with a 97,5 per cent return to player (RTP), winning money certainly becomes a lot more easy. Sit back, enjoy the show and let the money roll in at The Copa Slots.
4. The Exterminator Slot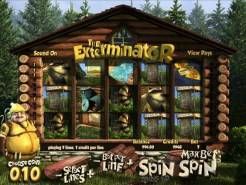 The Exterminator is another great 3D video slot machine game. It has 5 reels with 30 paylines and it features a broad variety of winning combinations, bonus rounds and free spins. The enjoyable game revolves around a crazy bug exterminator who needs to chase a raccoon out of a cottage, which is it's comfortable hiding place. The exterminator is a busy man and the stubborn raccoon will not leave the cottage without a fight. Help is required by players and the reward could be a large cash reward. However, when embarking on an exterminating gambling adventure, players also encounter other annoying filthy items and scary pests, like bugs, trash bins and even a nasty jungle monster. The job might seem a bit pesky, but it is done in graphically beautiful game environment with amazing effects and great background music. The money rewards are another reason to embark on an already legendary bug and raccoon hunt.
3. Safari Sam Slot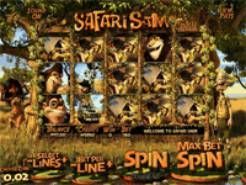 Safari hunter Sam takes players on a gambling adventure that they never forget. During this enjoyable video slot safari on the Savannah, players spin the big five for lucrative winning opportunities. 30 paylines, stacked collapsing wins, multipliers, bonus rounds, free spins and a wonderful RTP of 97 per cent, will help them to increase their gambling success during a memorable adventure. There is a lot to see on this spinning safari, because the wild life is very active on the reels. Beautifully designed icons, like zebras, gorillas, lions and monkeys, are just a few of the animals that help players to increase their bankroll. They are all showing up as animated symbols. It is clearly visible that the Safari Sam game developers paid a lot of caring attention to details, when they designed the symbols and the general graphics of this highly recommandabele game.
2. After Night Falls Slot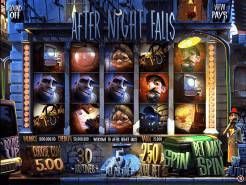 After Night Falls earns it's excellent reputation as a superb 3D video slot game, because of its abundant amount of money making opportunities and the high RTP (97,2 per cent). At this game, slot enthusiasts gamble on 5 reels that have 30 paylines in total. They get their gambling kicks from collapsing and moving wilds, bonus rounds, free spins and a very tempting and frequently occurring jackpot. After Night Falls Slot is a very atmospheric and visually attractive slot, with an equally atmospheric soundtrack. The game revolves around an inspector that tries to catch a thief. That is not an easy task, because this clever criminal only strikes after night falls. The inspector and the thief are both animated symbols in this game. Other to the story related icons are televisions, a magnifying glass (the moving wilds attribute), a security camera, a jewelry box, a swag bag and the bonus triggering granny icon.
1. WhoSpunIt? Slot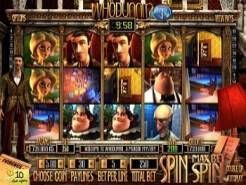 Whospunit? is another beautiful and entertaining crime themed video slot game. It pays exceptionally well and it offers a very enjoyable gameplay experience, along with the delightful graphics and animations that players can always expect from Betsoft. The theme of this 3D game revolves around a murder mystery that players need to solve. What is the murder weapon, where did the murder take place and, most importantly, who did it. While spinning the 5 reels of the 30 paylines game, they look for clues that expose the murderer. The game's symbols might help with solving the crime and earning a nice cash reward, because they include the murder suspects, a list with useful clues, a secret safe and a magnifying glass. Despite it being a murder mystery game, players are definitely in for some enjoyable gambling fun when they hit the reels of this highly entertaining and thrilling WhoSpunIt? slot game.
Embark On An Unforgettable 3D Slot Adventure
Betsoft offers some of the best 3D slot games in the business and players are able to enjoy them 24/7 on their favorite instant play casino. And they can always pick a slot game out of this top 7 list, if it becomes too difficult to choose between all those excellent casino slot machines that this software developer has to offer.