Bonus Slot Machines
We're all looking for a little extra and Bonus Slots are an exciting way to add a little extra to your online casino entertainment. Some Bonus Slots have Wild Symbols, Wild Multipliers, and Scatter Symbols. Others offer you Free Spin Bonus and Additional Bonus Rounds. Surprises await you with every spin and we are here to tell you where to spin them.
Going on a Bonus Hunt!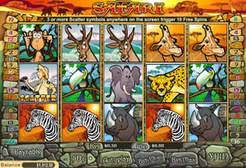 5-reel Bonus Video Slots will drive you wild like Safari Hunt. Safari Hunt is a 5-reel video slot with 20 available paylines, giving you the chance to bet up to 20 coins with each spin. If the park ranger appears more than 3 times anywhere on the screen, he triggers 10 free spins. He is the Scatter Symbol and the Wild Symbol is the jeep, which will help you complete your combination to win. Video slots, like Safari Hunt offer colorful graphics which climax with the Bonus Rounds. The Safari Bonus Round begins with a beautiful introduction screen, including a giraffe set against a scenic background inviting you to "please choose a spot." Then, in a new screen, you are given 8 spots to choose from, but choose carefully because 7 of them will present you with prizes and one will let you down. Still that's a 7 in 8 shot at a prize. That's Awesome! If you stumble on the End Game spot, then the Bonus Round ends until next time. Check out these 5-Reel Bonus Video Slots: Cleopatra's Pyramid Slots ; The Reel Deal Slots ; Mermaid's Quest Slots ; Fat Cat Slots and X Marks the Spot Slots .
Play to Win!

Dennis Rodman's Worm's World is one of many slots with 20 paylines offered for you to try. Dennis Rodman, the basketball icon, and his colorful hair appear in this slot that bears his name. Like all of 20-payline slot games we mention, Dennis Rodman's Worm's World includes a Bonus Round but what's special about this slot machine, is that this bonus is guaranteed. In addition to the Bonus Rounds there is a Free Spin Feature that takes 3 Scatter Symbols to trigger 15 Free Spins with a 3x multiplier.
Some more 20 Payline Slots with Bonus Rounds for your experiments in entertainment are Cleopatra's Pyramid Slots ; Daredevil Dave Slots ; Evel Knievel Slots ; Fat Cat Slots ; Money Shot Slots ; The Reel Deal Slots and 5-Reel Wheel of Chance Slots .
We Love the Night Life!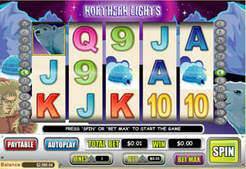 Multi-Slots, like Northern Lights, combine many challenges with excitement and surprises with every spin. 25-payline bonus slots give you more chances to win, more prizes, bonus rounds and free spins with winning multipliers. Being from the north, I have a bright spot in my heart for the Aurora Borealis. From Florida to Alaska, you'll love this slot because it gives you 29 winning combinations. It is a 5 reel, 25 payline video slot with symbols as beautiful as the night sky, including Polar Bears, Whales, Seals and Igloos along with a Euchre deck of cards. The Wild Symbol is the Polar Bear and the Aurora Scatter Symbol activates the Bonus Round when there are 3 or more. Some other 25 Payline Bonus Slots to indulge in are Black Magic Slots ; Jungle King Slots; La Fiesta Slots; Lucky Lady Slots; Medal Tally Slots; Monster Money Slots; and Solomon's Mines Slots.
Liberty Slots Casino

Download and play all the slots mentioned at Liberty Slots Casino . The Casino and all of these great games are open to US-players. Practice with their free-play option or take advantages of Liberty Slots Casino's Bonuses to increase your bankroll.
Bonus Slot Machines are Crazy with Liberty Slots Casino!
This is the place for crazy bonuses. Not just one sign-up bonus of 100%, there are weekly bonuses which includes a 75% match bonus on your first deposit; a 50% match bonus on your first deposit; and a 100% match bonus on your first deposit. You can earn comp points for every $100 that you play. That's Crazy Awesome! And there's more! You get 4 Tournament Coupons just for signing up. You can use these coupons for free entry to any of Liberty Slots Casino's daily Tournaments. Browse and when you find a Tournament you really want to join, contact their Customer Support with your Tournament Coupon Code. And you can use Liberty Slots Casino's "Add to Calendar" feature to keep up on all the Tournaments. Liberty Slots Casino really wants to be your source for Bonus Slots; their Customer Support is ready to answer your emails or phone calls 24-hours a day. So what are you waiting for? It's a good time to play!